Startup Center in Changzamtog, Thimphu, Bhutan
Some say entrepreneurship is the backbone of a country. Entrepreneurship creates job opportunities, promotes innovation, and improves the economy.
Recognising this, the Bhutanese government has launched various initiatives to encourage entrepreneurship.
The MoLHR Entrepreneurship Programmes
The programme was first established in the early 1990s to advocate cottage industries and SMEs in the country. Then, in 2009, EPC was transferred to the jurisdiction of the Ministry of Labour and Human Resources (MoLHR) to promote entrepreneurship and encourage the youth to consider self-employment.
The programme aims to introduce entrepreneurship education in schools and colleges to train up entrepreneurs. They also develop Business Incubation Centres and support startups.
Among the programmes organised by MoLHR are:
EDP Training With Dzongkhags, NGOs and Other Institutions
There are 2 courses available: Basic Entrepreneurship Course (BEC) and Advanced Entrepreneurship Course (AEC). The former is meant for youth between the ages of 18 and 29 with a class XII qualification, whereas the latter is aimed at youths with a bachelor degree.
During the courses, students are taught basic entrepreneurship concepts, ecosystems, and Competency-based Economies through Formation of Enterprise (CEFE) methodology. At the end, the students develop feasible business plans for future execution.
Student Business Seedling Programme
This programme aims to foster in the students an entrepreneurial spirit. It was first piloted in Desi High School, Thimphu, in 2018.
Training of Trainers in New Business Creation, Counseling, and Mentoring
Entrepreneurship Promotion Focal Officers are required to be certified to provide entrepreneurship training. On top of TOT training, the officers also experience the BEC and AEC curriculum.
Start-Up Weekend
Aspiring entrepreneurs are given a platform during this 54-hour programme to develop a business idea, conduct market validation, and pitch their ideas. During the event, teams work on their idea and produce a working prototype, followed by a demo and presentation. They are assisted by mentors, volunteers, and organisers.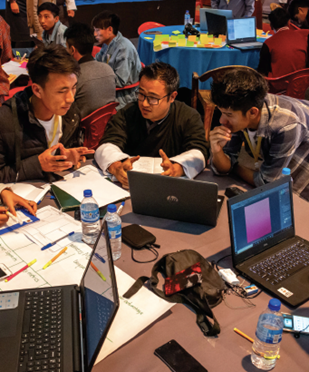 Participants of a start-up weekend
Startup Innovation Tech Week
Similar to start-up weekend, Start-up Innovation Tech Week is a week-long technology idea-generation platform for attendees to get hands-on experiences so they can test innovative ideas.
Initially, participants pitch their ideas and inspire others to join their team. Next, they work on market validation, building a Minimum Viable Product (MVP), demonstrate prototypes, and receive valuable feedback from a panel of experts.
Startup Acceleration Programme
For entrepreneurs with viable business ideas, this programme offers additional training. The course is 3 months long, with a week-long training session on the first week of each month.
Experienced professionals from the relevant fields guide the participants to groom their ideas. At the end of the programme, the trainee entrepreneurs launch their developed product.
Awareness Programme
This programme aims to create awareness on entrepreneurship in technical training institutes, schools, colleges, and among out-of-school youth.
Global Entrepreneurship Week
Bhutan participates in Global Entrepreneurship Week, an initiative observed worldwide by the 170 countries within the Global Entrepreneurship Network (GEN). The event's objective is to encourage those with ambitions for entrepreneurship to foster connections and increase collaboration within the ecosystem. There are various sessions and workshops, and the best entrepreneur receives a prize and certificate.
Business Idea Competition of Bhutan (BICOB)
BICOB is an annual competition in collaboration with Thimphu Techpark and other stakeholders. They seek to promote business ideas and entrepreneurship in Bhutan. During the competition, participants submit a description of the business and overall modality. A panel of judges access the entry. Shortlisted participants develop their final prototype, and the winners are awarded cash prizes, certificates, and incubation space to further groom their ideas.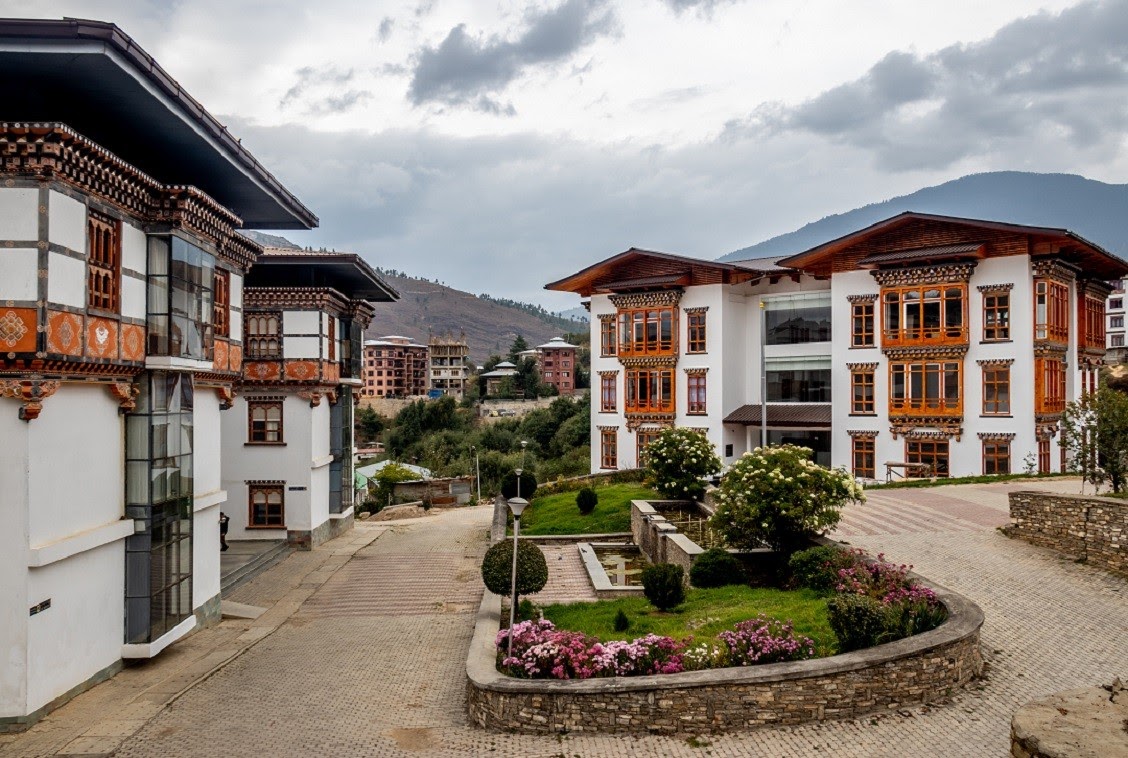 Thimphu Techpark
Training on Micro-Works and Online Freelancing
There is so much potential for college youth and job seekers to tap into if only they are equipped with the right knowledge and skills. The division started in five RUB colleges of 200-300 college students, where they recruited interested youths to start training the subsequent year.
Loden Entrepreneurship Programme (LEP)
An initiative by Loden Foundation, a Civil Society Organisation (CSO) in Bhutan to foster social entrepreneurship, education and culture programmes in Bhutan. LEP is designed to promote and encourage entrepreneurial activities while maintaining social and ethical responsibility. LEP started in 2008 when Loden began supporting aspiring entrepreneurs through interest and collateral-free loans. It has since expanded beyond funding to include capacity building and providing support through mentorship and resource centre.
G2B Platform
Once upon a time, to register a business, one had to trek across the Himalayas to one of the 6 government offices then wait 5 days for registration.
This could mean a total of 4 days of walking for those living in remote valleys.
But now, becoming an entrepreneur in Bhutan is easier than ever. On May 13, 2021, the Bhutanese government launched the G2B portal, a registration portal for small businesses.
With the G2B portal, entrepreneurs can register themselves on their phone, and receive the registration cert instantly at no cost.
The portal is user-friendly, and even has a video tutorial to aid applicants.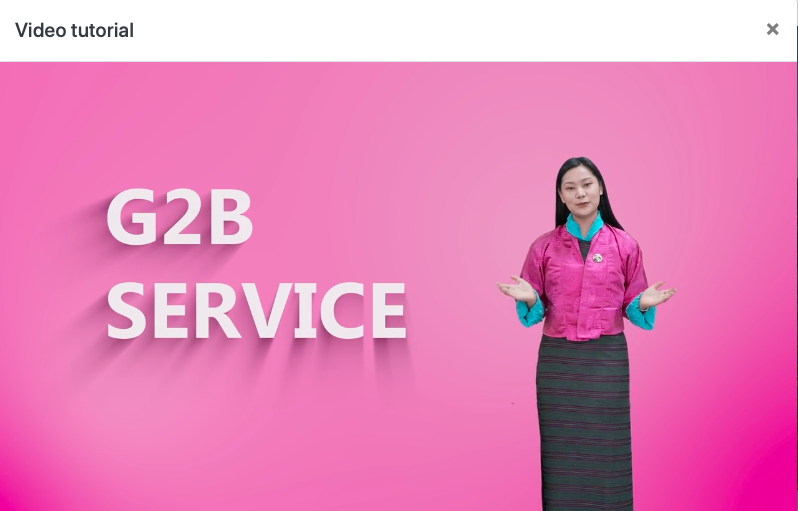 The online registration is currently available to all small and cottage enterprises, which comprise firms valued at below $14,000. 95% of businesses in Bhutan fall under this category.
The Bhutanese government hopes that the portal will support the growth of SMEs all over the country, adding to the overall effort to champion entrepreneurship, propelling Bhutan forward.
Source: https://www.dailybhutan.com/article/what-are-the-entrepreneurship-programmes-and-initiatives-available-in-bhutan